The Ultimate Summer Playground!
Water Park CLOSED for the 2022 season. SEE YOU NEXT YEAR!
Water Park Hours: 10 AM to 7 PM
Swimming Hours: 7am to 7pm
Parking: $10 per vehicle/per day
Water Park Bands: $15
There's no better way to beat the heat than jumping, climbing, sliding, and swimming all day long! The Water Park includes monkey bars, rope and "rock" climbing, slides, raceway obstacle, and other fun stuff.
Santa Rosa Water Park opens May 27th 2023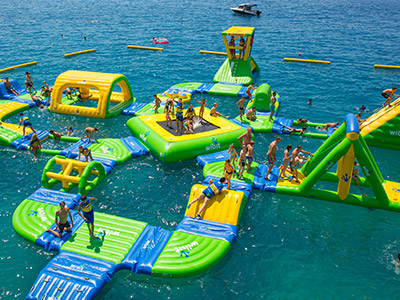 You'll have a blast pedaling and paddling your way around Park Lake… and circling down the water slide!
There's plenty of playground fun for the little ones at Park Lake!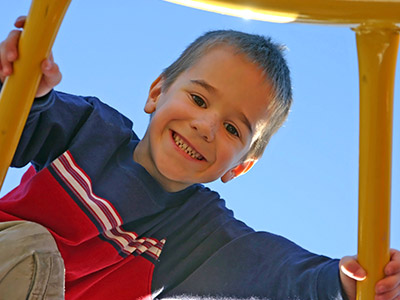 OPEN YEAR-ROUND!
Every day from 7am to 7pm
Parking: $10 per vehicle/per day
CLOSED September 4th & 5th

Crystal-clear, sapphire-blue waters with a constant 62° temperature make BLUE HOLE one of the most popular dive destinations in the US…and a fun place to cool off!
Whether you cliff jump, dive or use the steps to ease yourself in, you just need to do it! You'll be surrounded by water as blue and pure as the Caribbean… and some fish, too! The Blue Hole Visitor Center includes exhibits, a snack bar, changing rooms, restrooms, retail merchandise, a viewing area, and free Internet. The Blue Hole is 80' wide, 80' deep, and 130' wide at the bottom It's actually one of seven sister lakes, all interconnected underground!
Open to swimmers
Swim at your own risk
No lifeguard on duty

Reservations are NOT required for SCUBA divers:
Call 575.472.3763 or email bluehole@srnm.org
No more than 20 divers at a time in the water
Updated applications for all dive shops required
We accept cash, debit, credit cards, and Apple Pay
All divers must sign in upon arrival
All divers must have a picture ID and Certification Card
Warm room is available
Diver restrooms are available
Permit bands must be visible at all times
Diving at Blue Hole
A current certification card is required to dive in Blue Hole
Weekly Dive Permit $25
Annual Dive Permit $75
Annual Instructor Permit $125
Dive Shop Requirements
Annual renewal $225
Up to 5 instructors with Padi, SSI, or valid diver license
Current proof of insurance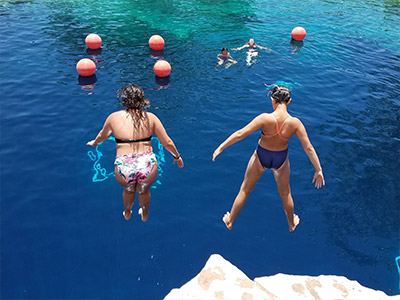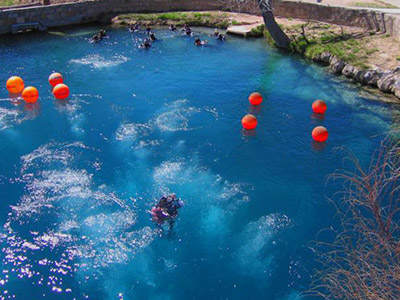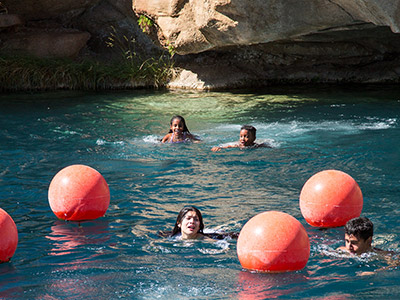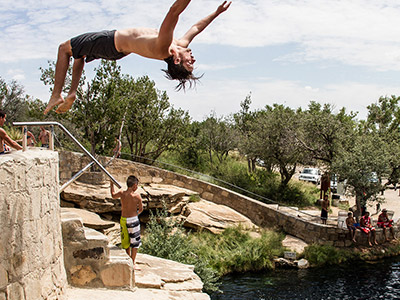 Scuba divers come from all over the country to practice and train in the high-altitude, dive-perfect clear waters and caves at Blue Hole. BLUE HOLE DIVE CENTER amenities include two underwater training platforms, a boat simulator platform, training rooms, and a locker room. Scuba training conducted at Blue Hole includes Open Water, Advanced Open Water, Rescue, Dive Master, and Diving Instructor Training. Gear, tanks & tank refills are available 8:00 am Sat/Sun and by appointment on weekdays.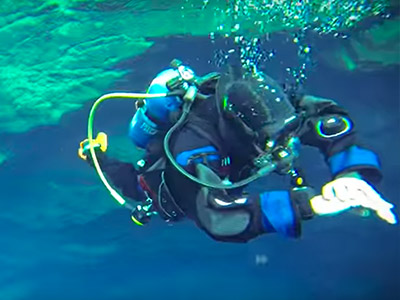 Children under 11, seniors and individuals with disabilities can enjoy the fun of fishing at the BLUE HOLE FISHING POND! Catches include green sunfish, bluegill, channel catfish, largemouth bass, winter rainbow trout and summer catfish.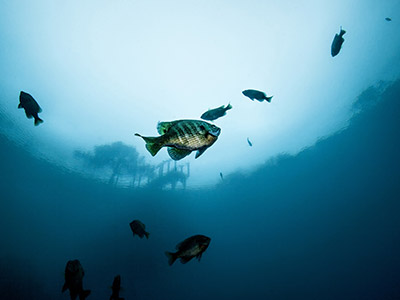 Santa Rosa Lake State Park
So much to do. Boating, waterskiing, jet-skiing, windsurfing, swimming, snorkeling, hiking, biking, mountain biking, bird watching, RV sites, campsites, and trails for horseback riding. Amenities include a boat ramp, two docks, picnic shelters, wildlife viewing, and a playground. The lake is four miles long and three miles wide, with a depth of 30-40 feet.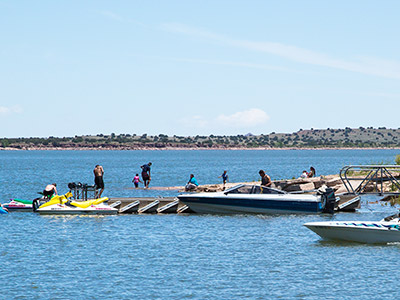 Located on Hwy 91 just 1.4 miles from downtown Santa Rosa NM, Perch Lake is a popular fishing spot for baitcasting, spinning, and fly fishing. The lake is also popular for scuba diving. A training platform, a sunken twin-prop Cessna, and a sunken car give divers an opportunity to explore and hone their skills.