Roll Down Historic Route 66
Trace The Mother Road Through Santa Rosa!
Nostalgic neon, icons, and buildings take you back to Route 66's glory days.
When Route 66 passed through Santa Rosa in 1930, the town filled with service stations, cafés, and motor courts to accommodate motorists traveling the Mother Road. You'll see plenty of buildings and signs that take you back to the glory days as you travel Historic Route 66 in Santa Rosa.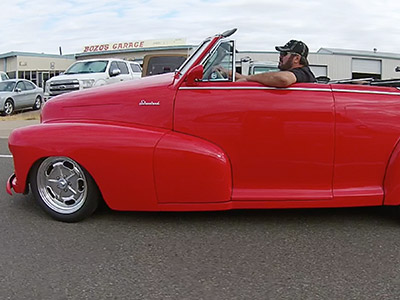 Lasting Reminders of Days Gone By!
As you drive down Santa Rosa's Historic Route 66, you'll see plenty of old signs and buildings… remnants of a day when the bright neon lights were a welcome sight to weary travelers looking for great food and comfortable lodging.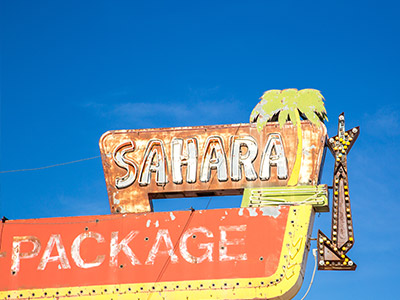 Turning "The Wheels" of History!
Route 66 comes to life as you tour this iconic collection of vintage cars, trucks, toys, gas pumps, and memorabilia, all brought together to celebrate and remember the glory days.
There's enough chrome, fins, and colorful finishes… inside and out… to give any car buff an unforgettable experience. A gift shop and snack bar are part of the experience are onsite.
$5 Adults | $3 Children 12 & under

April – October
Mon-Sat 7:30am – 6:00pm
Sun 7:30am – 5:00pm
November – March
Mon-Sat 8:00am – 5:00pm
Sun 7:30am – 5:00pm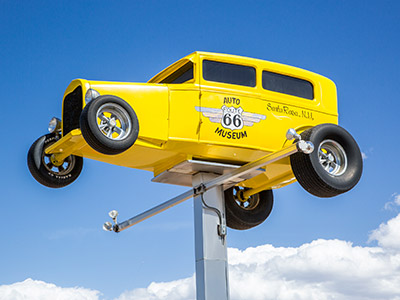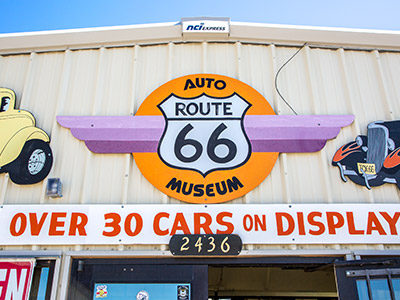 Route 66 Icon Alive and Well!
A world-famous Route 66 icon back in the day, Fat Man was the face of the Club Café, known for its home cooking, sourdough biscuits, and Mexican blue corn tortillas. Over the years, the smiling, satisfied face of the Fate Man drew thousands of visitors. Club Café closed in 1991, but the original sign lives on at the Route 66 Auto Museum, and it graces the front of Joseph's Bar and Grill.